A

. Match the pictures with the verbs in the box.
create • design • fix • fold • match • stretch • tear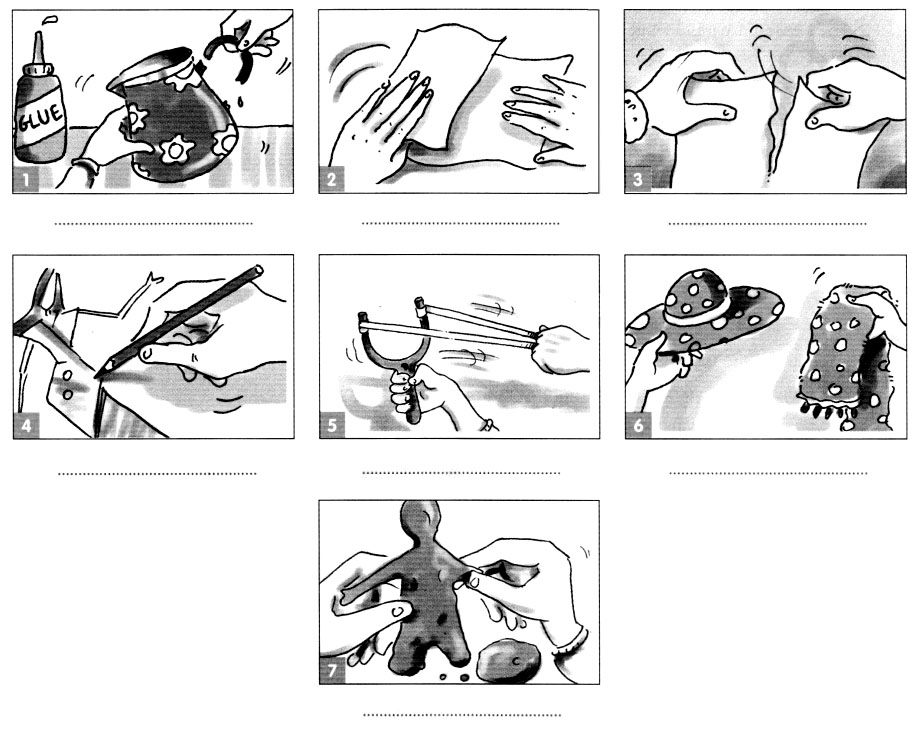 Answers
1 fix   2 fold   3 tear   4 design   5 stretch   6 match   7 create
B

. Each of the words in bold is in the wrong sentence. Write the correct word.
1   These jeans are too ancient. Do you have a smaller size? ………………….
2   I don't like your smooth dress. It makes you look like a zebra! ………………….
3   It's good to have rough skills, like being able to make your own clothes. ………………….
4   Ouch! These shoes are far too checked. Have you got any in a bigger size? ………………….
5   Wear that suitable shirt, the one with the red and white squares. ………………….
6   The woman asked the assistant if they had any jackets loose for a one-year-old girl. ………………….
7   This woollen jumper is really striped. I don't like wearing it because it makes me itch! ………………….
8   The practicaI Egyptians almost always wore white clothes. ………………….
9   Feel this material. It's so soft and tight. I bet it's really expensive. ………………….
Answers
1 loose   2 striped   3 practical   4 tight   5 checked
6 suitable   7 rough   8 ancient   9 smooth
C

. Circle the correct word.
1   They've got some fantastic paintings in the local art gallery / style.
2   Amy asked me if I had seen her silk / shape blouse.
3   We pay someone to maintain / notice the block of flats we live in.
4   The latest fashion is short piles / sleeves with lots of bright colours.
5   The assistant said the T-shirts were made out of cotton / suit.
6   I asked my mum what tools / improvements I needed to fix the car.
7   Oscar bought some material / pattern to make a costume for the fancy-dress party.
Answers
1 gallery   2 silk   3 maintain   4 sleeves   5 cotton   6 tools   7 material
D

. Write one word in each gap.
Dress to impress
Do you think carefully about what you (1) ………………… on each morning when you get dressed? What do the clothes that you (2) ………………… on say about you? If you want to make the right impression, try these easy tips.
When you buy clothes, always (3) ………………… them on. Ask a friend's opinion if you're not sure. And check that what you buy is the right size! If it's a jacket, for example, make sure that you can (4) ………………… it up properly. And make sure it's easy to put on and (5) ………………… off.
Clear out your wardrobe. Take everything out and only put back those things you actually like. (6) ………………… out all the things you never wear. It will create space for new clothes and you'll be able to (7) ………………… it up with things that suit you.
Finally, try making your old clothes more fashionable. You could (8) ………………… the sleeves off an old shirt or change the colour. Have fun, and always dress to impress!
Answers
1 put   2 have   3 try   4 do   5 take   6 Leave
7 fill   8 cut
E

. In each sentence there is a word missing. Put an arrow to show where the missing word should go and write the word.
1   My parents said they wanted to build a play area at the back our house.
2   Those silver boots are really fashion at the moment!
3   Jan said it would look nice if we put some candles the corner of the room.
4   We need to design a new sign to go in front the shop to attract customers.
5   What's going to happen at end of your story?
6   Things become fashionable and then go out style very quickly.
Answers
1   back of our house
2   really in fashion
3   candles in the corner
4   in front of the shop
5   at the end of your stay
6   out of style 
F

. Complete by changing the form of the word in capitals when this is necessary.
1   She must have a lot of ………………………. to think of ideas like that. IMAGINE
2   I love the way they've designed this cup without a ………………………. . HAND
3   Kevin said he loved classical music and his favourite ………………………. was Mozart. COMPOSE
4   When you look at his notebooks, you can see that Leonardo da Vinci was really ………………………. . INTELLIGENT
5   Todd is really ………………………. . He loves painting, playing music and ART writing poetry. ART
6   Would it be safer if all houses had windows made out of ………………………. glass? BREAK
7   It took a lot of ………………………. to get the show right, but it was worth it. PREPARE
8   Mum asked if I wanted to go to the Dali ………………………. and I said yes. EXHIBIT
9   You might create something that's wonderful, but remember that it's impossible to achieve ………………………. . PERFECT
10   Our art teacher gives us a lot of ………………………. to paint what we want to. FREE
Answers
1 imagination   2 handle   3 composer   4 intelligent
5 artistic   6 unbreakable   7 preparation   8 exhibition
9 perfection   10 freedom
G

. Circle the correct word.
1   Tina is only two, so I was amazed by / with the picture she drew.
2   Picasso has been a huge influence in / on me as a painter.
3   Writing poetry is similar to / with writing a song in some ways.
4   Look at this wonderful still life – it's a picture from / of fruit in a bowl.
5   I like Stephen King's books, but I was a bit disappointed from / with his last one.
6   There's a lot involved in / on writing a symphony. It takes a lot of hard work.
7   Derek asked if I was familiar on / with an artist called Titian and I said yes.
Answers
1 by   2 on   3 to   4 of   5 with   6 in   7 with
H

. Complete using a form of the verbs from the box. Add any other words you need.
change • describe • explain • remind • remove
1   We need to …………………. the old wallpaper …………………. the walls before we put the new one up.
2   Could you …………………. how you make concrete …………………. me?
3   I would …………………. this style of painting …………………. quite modern.
4   This piece of music always …………………. me …………………. long summer evenings.
5   My drawing of a horse went a bit wrong so I …………………. it …………………. a camel!
Answers
1 remove/from
2 explain/to
3 describe/as
4 reminds/of
5 changed/into