'Getting to the Top' business seminar
So, you've seen (1) an advertisement / a bargain for someone to work in business? But do you really know what you're doing? Do you know how to keep the (2) customers / debts happy? Can you make a (3) cost / profit again and again? At 'Getting to the Top Business Education' we'll help you to help yourself. Why don't you attend our specialist business seminar and … learn how to make a (4) catalogue / fortune in business! Our course leader, Richard Sugar, says, 'Being big in business (5) exports / requires a certain way of thinking. You need to know what your customers will (6) afford / demand and then find a way to (7) owe / supply them with it at the right price.' Come and join our seminar and we'll … 'get you to the top'!
Answers
1 an advertisement   2 customers   3 profit
4 fortune   5 requires   6 demand   7 supply
B

. Complete using the correct form of the verbs in the box.
import • invest • obtain • own • purchase • save • select • waste
1   We've decided to ………………… money in Jake's new business. Hope it's successful!
2   Let's stay in tonight and ………………… our money for the trip next week.
3   Don't ………………… all your pocket money on sweets and chocolate.
4   The company has ………………… permission to start selling in China.
5   You usually have to pay tax when you ………………… things from other countries.
6   Colin is so rich that he ………………… four Rolls-Royces!
7   Joan ………………… a few pairs of jeans and went to try them on.
8   It says here that they give you a free glass with every pint of milk you …………………!
Answers
1 invest   2 save   3 waste   4 obtained
5 import   6 owns   7 selected   8 purchase
C

. Each of the words in bold is in the wrong sentence. Write the correct word.
1   We don't usually get that property of washing powder. ………………..
2   We can only take the item back if you've still got the change. ………………..
3   The best thing about the new shopping centre is that there's a lot of fee. ………………..
4   What's the design on a French one euro sale? ………………..
5   Carter and Sons have got some really good things in the receipt. ………………..
6   My mum didn't like me selling my bike, but she said it was my coin, so it was my decision. ………………..
7   When we bought the house, we had to pay a huge brand to a lawyer. ………………..
8   The taxi driver wasn't very happy when I told him I didn't have any variety. ………………..
Answers
1 brand   2 receipt   3 variety   4 coin
5 sale   6 property   7 fee   8 change
D

. Write one word in each gap.
He's taking it ………………… .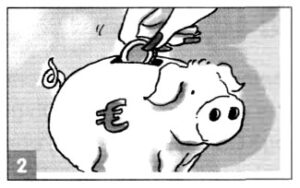 She's ………………… up.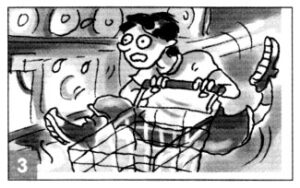 He's trying to ………………… up.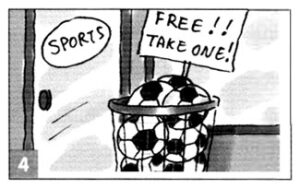 They're ………………… them away.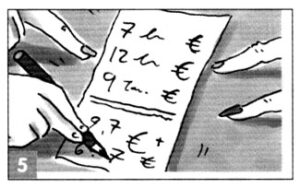 He's ………………… it up.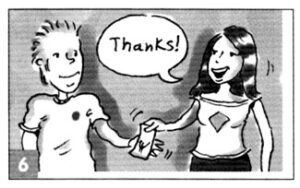 She's paying him …………………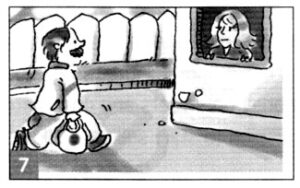 He's just ………………… back.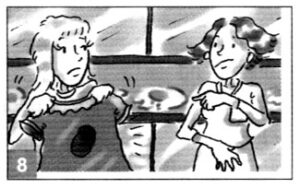 She's ………………… it back.
Answers
1 down   2 saving   3 hurry   4 giving
5 adding   6 back   7 come   8 taking
E

. Complete using the words in the box. You have to use some words more than once.
1   It can be very worrying when you're ………………. a lot of debt.
2   Can I pay for this ………………. cheque?
3   Did you see that the house next door is ………………. sale?
4   They took ten per cent off because I paid ………………. cash.
5   We need to find an office ………………. rent in the centre of town.
6   I got quite a lot of money for the car because it was ………………. such good condition.
Answers
1 in   2 by   3 for   4 in   5 for   6 in
F

. One of the words in each sentence is in the wrong form. Write the correct word.
1   The serve in this place is absolutely terrible and I want to see the manager. …………………..
2   Could you help me make a decide? I don't know which phone to get. …………………..
3   Even very good quality clothes are quite afford in this shop. …………………..
4   Companies should always tell the true in advertisements. …………………..
5   Credit cards are really use, but you have to be careful with them. …………………..
6   I read a compare of all the supermarkets and Safeshop was the most expensive. …………………..
7   My grandma had no idea that her old vase was so value. …………………..
8   Pete never shops at Mayfield's because he says it's too expense. …………………..
9   Before you borrow from the bank, you have to make a judge about whether you can pay it back or not. …………………..
10   Is the bill right? Could you just check your add, please? …………………..
Answers
1 service   2 decision   3 affordable   4 truth
5 useful   6 comparison   7 valuable   8 expensive
9 judgement    10 addition
G

. Circle the correct word.
1   Don't lend any money on / to George because you'll never get it back.
2   Where did you buy your new shoes at / from? They're great!
3   Let me just pay about / for these things and then we can go home.
4   There's something wrong in / with the CD player I've just bought.
5   Carol seems to spend all her pocket money for / on going out.
6   Look inside the wallet and maybe we can find out who it belongs in / to.
7   Have you decided in / on a name for your new business?
Answers
1 to   2 from   3 for   4 with   5 on   6 to   7 on
H

. Complete using the words in the box. Add any other words you need.
advertisement • borrowed • choose • compare • wrong
1   I need to get a new bag for school but I can't ………………… these two. What do you think?
2   This CD player seems expensive, but if you ………………… it ………………… the one in the other shop, it's actually not bad.
3   Madeleine ………………… a really nice top ………………… me and she still hasn't given it back!
4   The ………………… the website said you could sell your old things to people all over the country.
5   The shop assistant was ………………… the price so I had to show her the label.
Answers
1 choose between
2 compare/with
3 borrowed/from
4 advertisement for/on
5 wrong about