A

. Now look at photos 1-5 and listen to what the speakers say about each city. What is the place in the photo? Is it something to see or something to do? What information do they give about it?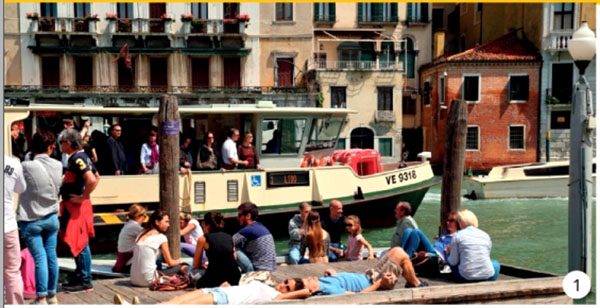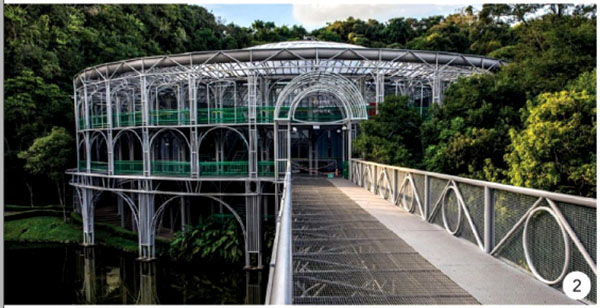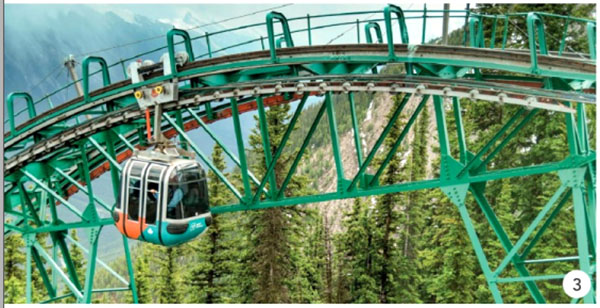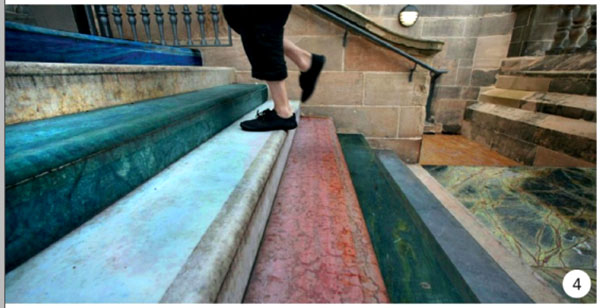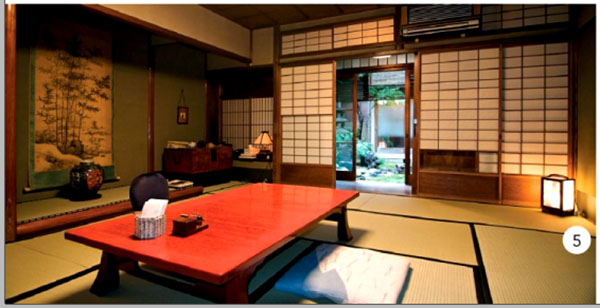 B

. Listen again. What other thing(s) does each speaker recommend? Did they mention any of Alain de Botton's six criteria?
Answers
A
1   A vaporetto on the Grand Canal in Venice. It's something to do. It's cheaper than going on a gondola.
2   The Wire Opera House. It's something to see. It's in the middle of an artificial lake in a park. It's made from steel tubes.
3   Taking the gondola up Sulphur Mountain. It's something to do. Sit at the top, enjoy something to eat and drink, and enjoy the view.
4   The Scotsman Steps in Edinburgh. It's something to see. It's an artwork called 1059. It's a marble staircase, and each step is a different color.
5   A ryokan in Kyoto. It's something to do. It's a traditional Japanese guesthouse. You sleep on tatami matting and have rice, eggs, fish, and seaweed for breakfast.
B
1   Piazza San Marco, the Rialto Bridge, just wander without a map
2   Go for a walk in the Bosque Alemão, visit the environmental university
3   A museum, walk along the Bow River, or rent a canoe, shop
4   Walk along the River Leith, from the port to the city, or the other direction
5   Visit the Kinkaku-ji temple, with its golden pavilion
Speaker 1   Orientation and mystery
Speaker 2   Scale
Speaker 3   Compactness
Audioscripts
1
I think I'd have to say Venice in Italy. In spite of all the tourists, all the clichés, I still think it's the most beautiful city I know. I always remember the first time I went. I arrived by train, and we stepped out of the station, and suddenly it was all there, the canals, the wonderful old buildings. What makes it beautiful for me is the light, the combination of the reflections of the churches and palaces in the water, the wonderful winding streets alongside canals, which are all different but also all similar – oh, it's an incredibly easy city to get lost in. And of course, the fact that there are no cars, no traffic. I fell totally in love with it that first time, and I've been back since then and loved it just as much. It's difficult to think of just one thing to see. I mean, Piazza San Marco is beautiful, the Rialto Bridge, but I wouldn't say they were the things I remember most. I would actually say just wander, without a map or a goal, and get lost. Everything is beautiful. The one thing I'd say to do is go on a vaporetto – a water bus – down the Grand Canal. I don't think gondolas are worth it, they're– they're ridiculously expensive – and you can enjoy everything just as much on a vaporetto.
2
The most beautiful city I've been to recently is probably Curitiba, which is in southern Brazil. I think one of the things I liked about it most was it's described as the greenest city on Earth, and they've really focused on creating a quality public transportation system. There's a huge number of parks in Curitiba – in fact, there's so much grass that the local authority uses sheep to cut the grass, not lawnmowers. And I just think that what I like about it is their commitment to trying to make the city an environmentally friendly place to live. One place you need to see there is the Wire Opera House, which, it's built in the middle of an artificial lake, in the middle of a park, and it's built out of steel tubes, it's really extraordinary, and beautiful, I think. And if I had to recommend one thing to do, I'd say go for a walk in the Bosque Alemão, it's one of the wonderful parks in Curitiba, and visit the free environmental university that is built up in the trees just nearby. Its mission is to educate people about the environment, and I just think that's a wonderful goal to have.
3
The most beautiful city I've ever been to is Banff in Alberta, Canada—well it's not really a city—it's really more like a town, but anyway it's one of my all-time favorite places to visit. What makes it beautiful for me is that it looks like it came out of an old, western movie, it's, uh, there are old, rugged buildings that aren't too tall, and it has a rustic feel, kind of like you might see a cowboy riding a horse along the main street at any given moment, and the whole place is like that. There aren't any modern skyscrapers in Banff, but what does catch your eye is that the town is surrounded by gorgeous, snow-topped mountains. There are lots of things to do—there's a great museum, The Whyte Museum, and there's good shopping, but I think that the town is just amazing to look at and also there are very few cars, so you can just walk around. I'd suggest walking along the Bow River, or if you're more adventurous, you can rent a canoe and paddle in the river. Something everyone who visits Banff needs to do is take the gondola up Sulphur Mountain, find a comfortable chair on the deck of the visitor's center at the top, order something to eat and drink, and take in the view of the town below nestled in the mountains. It's amazing.
4
I know lots of beautiful cities, and, uh, I wouldn't choose one above all the others, but one I always love going back to is Edinburgh in Scotland and something I really love about Edinburgh is that because it's kind of compact, more or less wherever you are in the city, you can see outside the city, so you can see the ocean, you can see the hills around, so you always have a sense of the city and the landscape, and I really like that. And one place, one thing I would recommend people to see in Edinburgh is something called the Scotsman Steps, which is a staircase that goes from the wall that joins the old town to the new town. And it's actually an artwork, it's called work number 1059, by an artist named Martin Creed, and it's basically a staircase made of marble steps, each one is a different color marble, so you really have a feel of going somewhere, you're going from one color to the next, and I love that place. And something I would do in Edinburgh would be to walk along the river Leith either way, either from the port of Leith up into the city, or the other way, because it's like a secret part of Edinburgh, and you see Edinburgh from a different perspective.
5
The most beautiful city I've been to is Kyoto in Japan. It's a really wonderful place because it's a mix of well, like, many Japanese cities, very, very modern buildings, and a lot of traditional, uh, temple areas as well, and you can walk down any Japanese shopping street and find a big supermarket or a modern office building next to a little temple where you step back in time many centuries. The one place that I would recommend that you see is the Kinkaku-ji temple, that is a very, very famous tourist site. It has a golden pavilion in the middle, and it's the most wonderful place. It gets very, very busy, but I was lucky enough to visit it when I lived in Japan, and I was able to stay with a friend and go there very early in the morning to avoid the crowds. One thing you need to do if you go to Kyoto is to try to stay not in a modern hotel, but in a ryokan, which is a traditional Japanese guest house where you can sleep on tatami matting and have, um, Japanese breakfast, which is rice, eggs, fish, and seaweed.