1

. Listen. Write the number of the news story next to the correct letter of the pictures.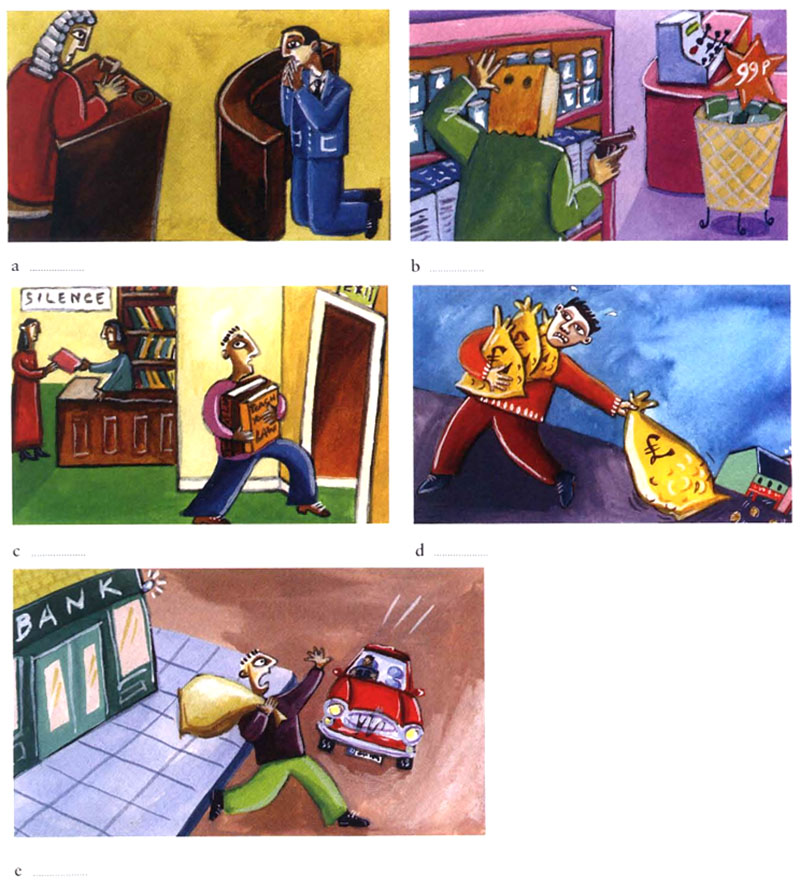 2

. Listen again and fill in the table with the information you hear.
| | | |
| --- | --- | --- |
|   | a  What went wrong? | b  What was stolen? |
| Story 1 |   |   |
| Story 2 |   |   |
| Story 3 |   |   |
| Story 4 |   |   |
| Story 5 |   |   |
3

. What do these words from the news reports mean?
a   armoured car              ………………………………………………………
b   getaway                        ………………………………………………………
c   escape route                ………………………………………………………
d   handpicked                   ………………………………………………………
e   without a hitch            ………………………………………………………
f   convicted                       ………………………………………………………
g   sentenced                     ………………………………………………………
h   appeal                           ………………………………………………………
i    prosecuted                   ………………………………………………………
j   shoplifting                      ………………………………………………………
k   attempted                     ………………………………………………………
l    in the course of           ………………………………………………………
m   shifted                          ………………………………………………………
Answers
1
a 3   b 5   c 4   d 1   e 2
2
a   Reason for arrest?
b   What was stolen?
Story 1   Weight of bags stolen meant robber couldn't run.
 four money sacks containing pennies
Story 2   Driver of getaway car ran robber over after he had robbed a bank.
 £100,000
Story 3   Burglar had his sentence increased by the judge after complaining a seven-year sentence would bring him bad luck.
 TV and stereo
Story 4   Shoplifter was caught stealing books from a library.
 law books
Story 5   Robber recognised during an armed robbery.
 nothing
3
a   car made from strong, bullet resistant steel
b   escape
c   way out
d   carefully chosen
e   according to plan
f   found guilty of
g   condemned / given a punishment
h   challenge a conviction
i   put on trial
j   stealing from shops
k   tried
l   during
m   moved
Audioscripts
Story 1
And finally on the news tonight, in Providence, Rhode Island, an armoured car driver was robbed of four money sacks today. But what the robber didn't know was that instead of bundles of banknotes each bag contained only 80 dollars in pennies. Try as he might, the thief, weighed down with coins, could not make a fast getaway. Police easily caught the man, David Posman, 33, as he tried to run away with the bags which weighed 30 pounds each.
Story 2
In London today a very unusual story of the perfect crime that went wrong, the bank robbery that failed. Everything seemed to be just right: the timing had been planned to the minute, the escape route was ready, even the hiding place for the money had been carefully prepared. The getaway driver had been handpicked as someone who could be trusted. The robbery went without a hitch and the robber ran out of the bank with over £100,000 in cash. Unfortunately for the robber, Wayne Smith from East London, when he reached the getaway car, his friend the driver, wanting to make the escape as fast as possible, fall him over. Smith and his accomplice are both in hospital tonight where they are reponed to be in a stable condition.
Story 3
Some news from San Antonio that shows you you have to be careful what you ask for. Brian Tilbury was convicted of burglary after entering a home and stealing a TV and stereo last month. In court today, the judge sentenced Tilbury to seven years in prison. According to witnesses at the court, this appeared to upset Tilbury and he proceeded to beg the judge not to sentence him to seven years as seven was his unlucky number. The judge heard his request and agreed to help the man. He sentenced him to eight years. Tilbury's lawyers have vowed to appeal the decision.
Story 4
Some crime news from across the Atlantic. In Florida today, Reinero Torres Jr was finally prosecuted after going to court for a third time. The first two times he had been found not guilty of the charges of shoplifting from a local store and had gone free. Today he was finally convicted at the third attempt. His crime? Stealing law books from the court house library which he was using to prepare the defence for his first two cases.
Story 5
And finally on the news tonight, a story that shows that crime really doesn't pay. A man was arrested tonight after he attempted to hold up a grocery store. It seems the criminal came into the grocery store wearing a paper bag over his head with two eyeholes cut out so that he could see. In the course of the robbery, the eyeholes shifted and he found that he was no longer able to see what he was doing – or what anyone else was doing. When the robber tried to move the bag back so he could continue with the robbery, the bag opened completely and the sales clerk was able to see the man's face. The clerk recognized him as a regular customer and called the police immediately after the thief made his getaway, without taking anything. The man was arrested soon after and will appear in court next week charged with attempted robbery.
That's all we have time for this evening, but we'll be back at 10 o'clock with a local news update.