1

. When would you hear these announcements? Look at the pictures (a-g) and listen to the announcements. Write the number of the announcement (1-7) above the appropriate picture.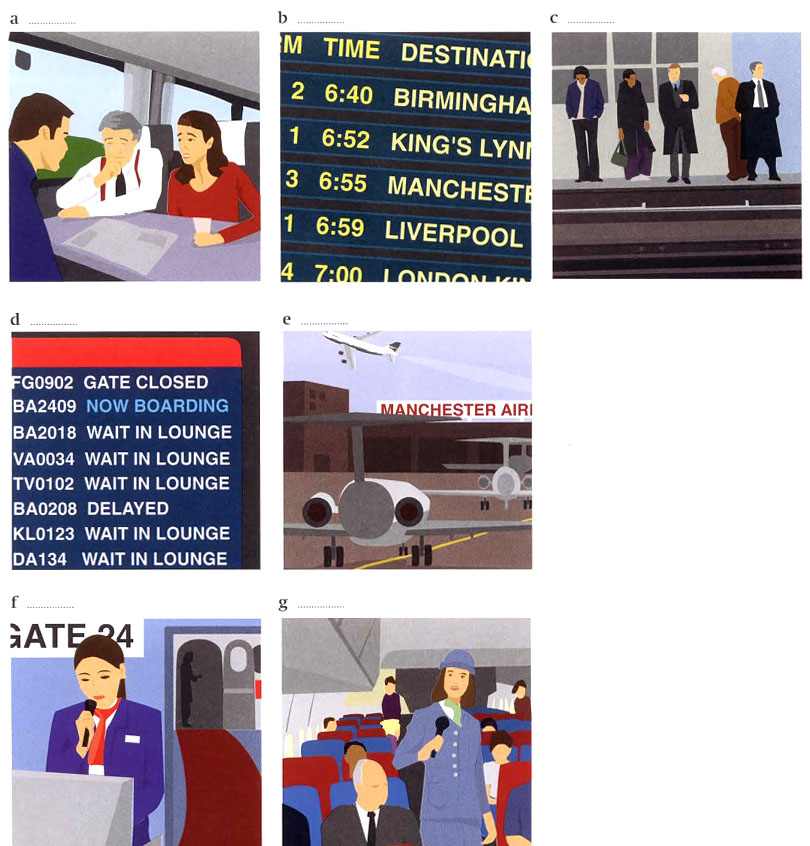 2

. Complete these expressions from the announcements with the words or phrases from the box. Match them with the pictures.
announcement

board

delay

fasten

fastened

last call

late

place

position

proceed

regret

return

running

shouldn't

sorry

switched off
a   This is the …………………… for flight 2409.   [   ]
b   Please …………………… to gate number 35.   [   ]
c   Here is a platform …………………… .   [   ]
d   We are ready to …………………… the aircraft.   [   ]
e   We …………………… to announce the …………………… of the 12.35.   [   ]
f   The train is …………………… approximately 15 minutes …………………… .   [   ]
g   …………………… for the delay.   [   ]
h   We …………………… be here for too long.   [   ]
i    Will all passengers please …………………… to your seats.   [   ]
j   …………………… your seatbelts.   [   ]
k   …………………… your seats in the upright …………………… .   [   ]
l   Please keep your seatbelts …………………… until the captain has …………………… the seatbelt sign.   [   ]
Answers
1
a 5   b 2   c 4   d 1   c 7   f 3   g 6
2
a last call [d]     b proceed [d]
c announcement [b]     d board [f]
e regret … delay [c]     f running … late [c]
g Sorry [a]     h shouldn't [a]
i return [g]      j Fasten [g]
k Place … position [g]
l fastened … switched off [e]
Audioscripts
1
This is the last call for flight BA two four oh nine to Bogotá. Would all the remaining passengers on this flight please proceed to gate number 35 as this plane is now boarding.
2
Here is a platform announcement. The 6,52 to Kings Lynn will now depart from platform 4 and not from platform 1. Kings Lynn, platform 4.
3
Good morning, ladies and gentlemen. We're now ready to board the aircraft, flight BA two four oh nine to Bogotá. Could all passengers in rows 20 to 39 please come to the desk with their boarding cards and passports. Thank you very much.
4
West Anglia regrets to announce the delay of the 12.35 to London King's Cross. This train is running approximately 15, one five, minutes late.
5
Good afternoon ladies and gentlemen. Sorry for the delay. A train has broken down in front of us so we can't proceed, but they've told me they're working on it so we shouldn't be here for too long.
6
We will shortly be landing at Manchester airport. The captain has switched on the seatbelt sign so will all passengers please return to your seats, fasten your seat belts. fold your trays into the back of the seat in front of you and place your seats in the upright position.
7
Welcome to Manchester airport. For your own safety please keep your seatbelts fastened until the plane reaches the terminal building and the captain has switched off the seatbelt sign.