A

. Watch the documentary The Great OUP Bake Sale. Which take 1-5 was the winner? Do you agree that it looks the best?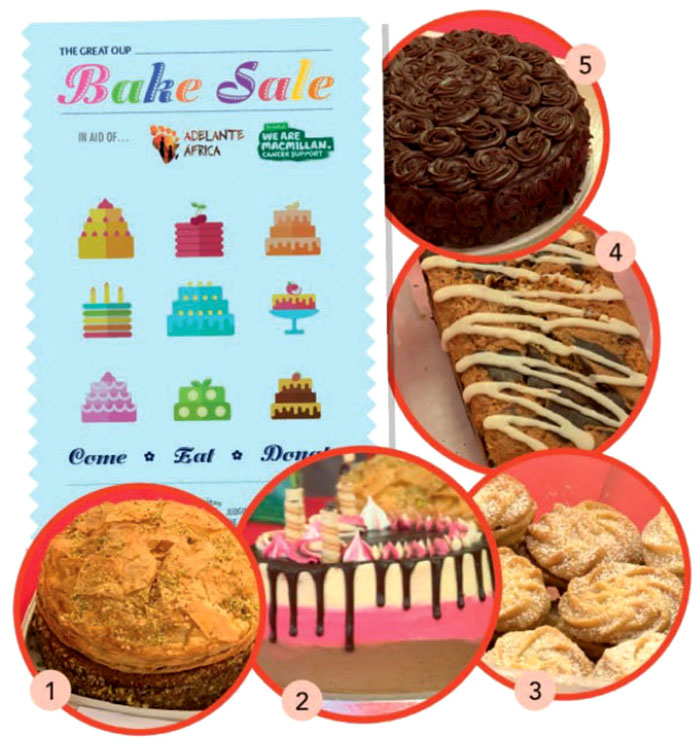 B

. Watch the documentary again. Why are the following mentioned?
1   the New York Marathon
2   The Great British Bake Off
3   Macmillan Cancer Support and Adelante Africa
4   Daisy Watt
5   Viennese Whirls
6   a stress-reliever
7   a sponge cake with blueberries
8   baking with kids
9   the decoration
10   £270
Answers
A
The winning cake is number 2, the Neapolitan cake.
B
1   The New York Marathon is an example of one of the ways that people raise money for charity. It raises about $40 million every year.
2   The Great British Bake Off is a television programme which has made baking and bake sales very popular.
3   Macmillan Cancer Support and Adelante Africa are the two charities that the OUP bake sale is raising money for.
4   Daisy Watt is a chef and is one of the judges of the baking competition
5   Viennese Whirls are the biscuits that Emma is making.
6   Emma says that baking is a stress-reliever for her – she enjoys baking and listening to music in the kitchen.
7   James is making a sponge cake with blueberries.
8   James says that when he bakes it's usually with his kids, and they make something easy.
9   The decoration is one of the things that Daisy is looking for – she wants to see that the bakers have made a real effort with the decoration of their cakes.
10   The OUP bake sale raised over £270 for the two charities.
Audioscripts
The Great OUP Bake Sale
N = narrator, E = Emma, J = James, D = Daisy, L = Laura
N   People do many different things to raise money for charity. These runners are doing the New York Marathon. Every year, the race raises about forty million dollars.
And these people are doing a sponsored skydive. There are also ways to raise money without taking exercise or jumping out of an aeroplane.
These people are bringing cakes to a charity bake sale. The popularity of bake sales in the UK has increased dramatically over the last decade, thanks in part at least to the popularity of The Great British Bake Off. This programme, which began in 2010, has encouraged people of all abilities to bake, especially when it's for charity.
Today's sale – at Oxford University Press – will raise money for two charities: Macmillan Cancer Support and Adelante Africa, a charity that supports education and other projects in a rural area of Uganda. But this bake sale is different – it's also a competition and will be judged by Daisy Watt and Emma Collen, who are chefs and professional bakers. And from the moment the posters appeared, people have tried to persuade their colleagues to join in. Emma is going to make Viennese Whirls – biscuits with buttercream and jam.
E   I bake quite often, probably once or twice a month. It's one of my main hobbies that I enjoy – um, kind of a stress-reliever for me, just being in the kitchen by myself, with some music on, just enjoying baking. Erm, and it's just an added bonus to do it for charity as well, combining one of my hobbies with raising some money for some really great causes. It's not the first time I've taken part in a bake sale. I've done several different kinds of bake sales for work and other things.
N   James is going to make a sponge cake with blueberries.
J    I bake not that often, maybe about, I don't know, once month or something I might bake. Erm, when I, when I do, it's usually baking with my kids, I suppose, so, um, you know, we make something really easy like cookies or something like that. The cake that I've baked today – I have baked that one in the past before. And so I'm quite confident, that it's going to be OK at least, but, you know, I couldn't say that it's actually a speciality. I don't bake often enough to have a speciality to be honest. I mean I'm baking now, because it's for a charity, right, so, so I wouldn't say I have a speciality.
N   The finalists in this competition bake sale are a Baklava Cake, a Neapolitan Cake, Emma's Viennese Whirls, a loaf cake and a chocolate cake. Although this isn't The Great British Bake Off, Daisy is looking for certain criteria in the cakes.
D   There are a few things I was looking for – refinement. It sounds harsh, but there were good cakes out there, so it was really important to choose the cakes that looked like someone had put real effort into the decoration and you can see the ones that put the effort in.
N   And it's now time to judge the five finalists.
D   That's fantastic! Very clever and you've even done the different coloured icing in between – a labour of love. Really good sponge. The chocolate sponge is delicious. It's not over chocolatey, it's just…
N   And then to choose the winner.
D   So I've conferred enough, because it is really close, but there is one winner, who has obviously put so much effort, not just in the decoration, but also her sponge is technically brilliant. So, are you going to come up here? Congratulations!
N   And now the only thing left to do is to eat the cake – and give money to the two charities.
L   Obviously really happy that my cake was chosen and it's really nice to bake for such a great cause as well.
E   They were really complimentary about my bake, which was great. But a biscuit, I don't think, is going to stand up to those beautifully-iced cakes that we had, so the standard was really high.
J    I mean I'm not the best baker in the world. I know that, but you know, as I say, it came out really well and it raised loads of money for the charities, so no, I'm really pleased I did it, yeah.
N   The cake sale raised over two hundred and seventy pounds for Macmillan Cancer Support and Adelante Africa.