A

. Listen to Simon and Claire describing their first day at work. What problems did they have?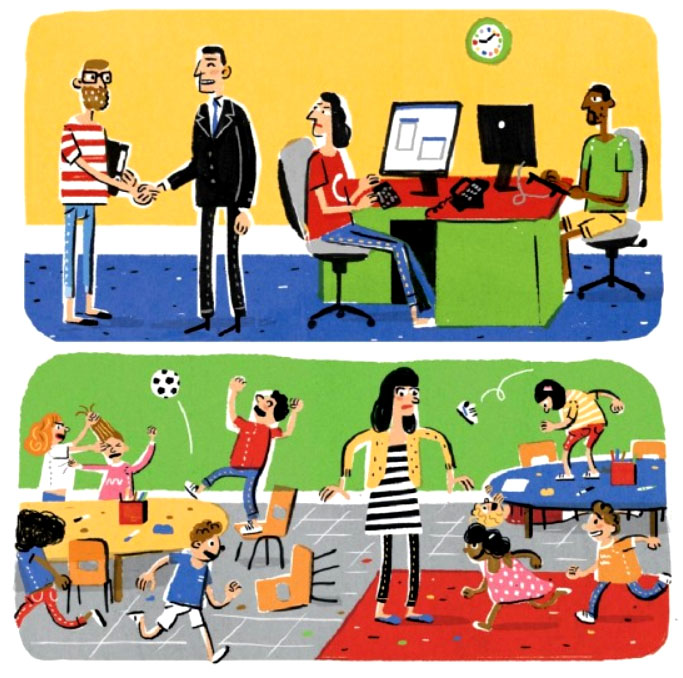 B

. Listen again. Answer with S (Simon), C (Claire), or B (both of them).
Who…?
___ 1   wasn't expecting to work on his / her first day
___ 2   didn't have the training to do the job
___ 3   made a wrong decision because of his / her interview
___ 4   couldn't answer the questions that people asked him / her
___ 5   felt bad when he / she spoke to the boss
___ 6   never had the same problem again
Answers
A
Simon was wearing the wrong clothes (a suit).
Claire had to teach three-year-olds and couldn't control them.
B
1 C   2 C   3 S   4 S   5 C   6 B
Audioscripts
Simon
When I was about thirty, I got a job as an editor in a publishing company. It was my first office job, and um I didn't really know what to wear, but um for the interview I wore a suit, in fact I bought the suit specially for the interview. I got the job, so I thought that must be OK, so um on the first day I went to work wearing a suit and a tie. I got to work early, um, I wanted to make a good impression, and I was the first person in the office, so I went in, I found my desk, with my name on it, and I sat down and there were a few papers and documents for me to read, so I started reading those. I turned on my computer, and after about ten, fifteen minutes the other people in the office started to arrive and I noticed that nobody else was wearing a suit, and I thought, 'OK it's not a big problem'. So I introduced myself to the other people, I said, 'Hello, how are you? Hello, pleased to meet you' and the next thing someone said to me was 'My computer's really slow, do you think you know what the problem is?' and I said, 'No, no, not really.' So then I introduced myself to somebody else and said, 'Hello, nice to meet you' and she replied, 'Hello, nice to meet you' and then she said, 'Do you know how I can connect my computer to the printer?' and I said, 'No, I have no idea how to do that.' Anyway I went back to work and about half an hour later I had a meeting with my boss, and she said, 'How's it going?' and I said, 'Yeah, it's all good, everybody seems really nice. Just one thing, why does everybody think I can fix their computer?' and she looked at me and what I was wearing and she said, 'It's your suit. Nobody in this office ever wears a suit, so they think you're from the IT department and you've come to help with a computer problem. They're the only ones who wear suits!' So I never wore it again. To this day.
Claire
It was my first day at work as a teacher at a language school, and they asked me to come the first week of term to observe some teachers, to watch their lessons, and then I was going to start teaching the following week. But when I arrived there they told me that one of the teachers was ill and they asked me to take the class, and it was three-year-old kids! So I was in a class with about ten three-year-olds, who were running around – my boss gave me a story book to read to them, but the kids couldn't speak any English. I'd never taught – never been trained to teach children that small. I tried to read the book to two of them, but the others were running around shouting and hitting each other, and at the worst possible moment, just when all of them were being really noisy and not doing anything I was telling them to, my boss – the director of the school – opened the door and just looked at me. I felt terrible, but then she said, 'These children are too young for you, aren't they?' and I said, 'Yes' – I was nearly crying. Luckily after that she never gave me any classes with really young children, but it was the most stressful class I've ever tried to teach.