A

. This is the rest of the story of King Lear. Find the ten verbs which take two objects and underline them.
King Lear gives his country to Regan and Goneril and sends Cordelia to France. Regan and Goneril build their father a small house and wish him luck but they don't allow him any power. They rule England now.
Regan and Goneril soon control everything and they leave nothing for Lear. The King is so angry and disappointed that he goes mad. He walks around the countryside in the wind and rain, telling everyone his story. Lear now understands how poor people live. This teaches Lear the truth about life.
Cordelia has not forgotten her father and brings an army to England to fight her sisters. There is a terrible battle but Regan and Goneril win. Cordelia is killed and Lear dies over her body. Regan and Goneril also die. Lear's terrible mistake costs him his life and his daughters.
Answers
sends, build, wish, allow, leave, telling, teaches, brings, costs
B

. Mattie can't decide what presents to get to her family. Write suggestions using give and buy.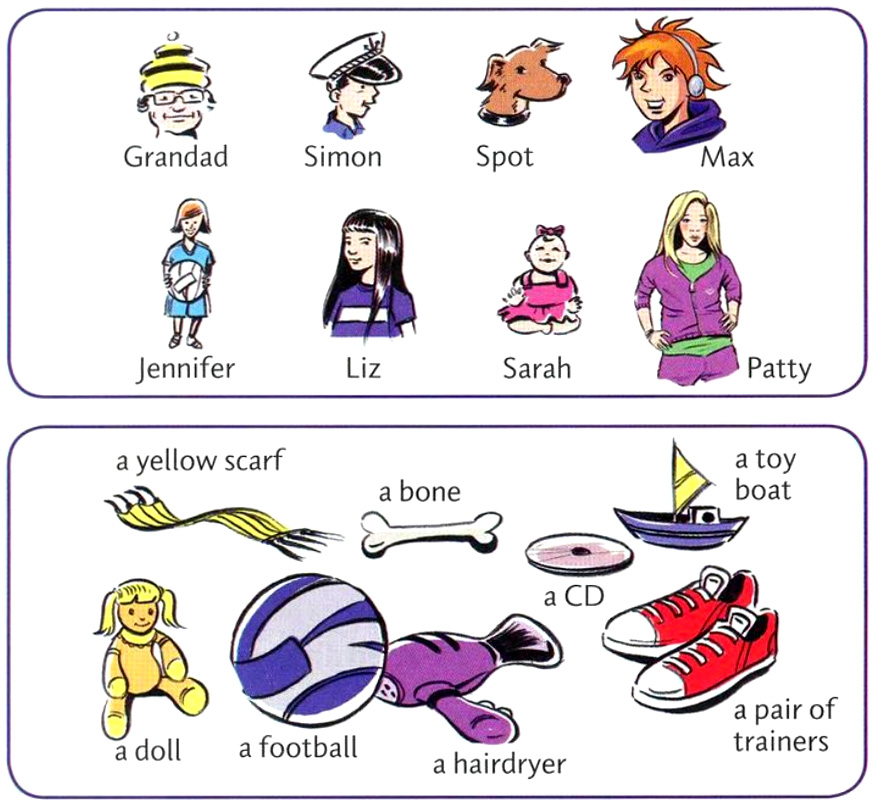 1    Give the bone to Spot. / Give Spot the bone.
2    Buy the boat for Simon. / Buy Simon the boat.
3    …………………………………………………
4    …………………………………………………
5    …………………………………………………
6    …………………………………………………
7    …………………………………………………
8    …………………………………………………
Answers
Possible answers
3   Give the football to Jennifer. / Give Jennifer the football.
4   Buy the scarf for Grandad. / Buy Grandad the scarf.
5   Give the hairdryer to Liz. / Give Liz the hairdryer.
6   Buy the CD for Max. / Buy Max the CD.
7   Give the trainers to Patty. / Give Patty the trainers.
8   Give Sarah the doll. / Give the doll to Sarah.
C

. Make sentences by putting the words in the correct order.
1    gave / he / her / flowers
      He gave her flowers
2    keys / threw / I / the / him
      ………………………………………….
3    his / to / Mike / photos / showed / me
      ………………………………………….
4    sold / Fiona / a / she / bike
      ………………………………………….
5    it / to / promised / me / she
      ………………………………………….
6    him / send / it
      ………………………………………….
7    some / they / advice / us / offered
      ………………………………………….
8    children / Maths / to / she / teaches
      ………………………………………….
Answers
2   I threw him the keys.
3   Mike showed his photos to me.
4   She sold Fiona a bike.
5   She promised it to me.
6   Send him it.
7   They offered us some advice.
8   She teaches Maths to children.
D

. Write prepositions (if necessary) in these sentences. If there is no preposition, write –.
1    Give the pen ……to…… me.
2    Give me ……–…… it now!
3    I wish …………… you all the best in your new job.
4    Bring a present …………… John.
5    Bring John …………… a present.
6    She's never spoken …………… me.
7    Tell …………… me a story.
8    I passed it …………… Sue.
9    Did he explain everything …………… you?
10   Lend …………… her your bike.
Answers
3 –   4 for   5 –   6 to   7 –   8 to
9 to   10 –
E

. Complete each sentence b so that it means the same as sentence a. Use two to five words, including the word in brackets.
1    a Trevor said he could give Jane ten euros for it. (offered)
      b Trevor ……offered Jane ten euros…… for it.
2    a The mechanic made my pay 150 euros for the repairs. (charged)
      b The mechanic ………………………………… 150 euros for the repairs.
3    a Denis bought a computer from Natasha. (sold)
      b Natasha ………………………………… Denis.
4    a Amy said I could have her old printer. (promised)
      b Amy ………………………………… .
5    a I want to say something to you. (tell)
      b I want ………………………………… .
6    a Philip gave me an explanation of the problem. (explained)
      b Philip ………………………………… .
7    a My doctor says I can eat red meat once a week. (allows)
      b My doctor ………………………………… a week.
8    a I borrowed my sister's skirt. (lent)
      b My ………………………………… .
9    a It is impossible to give you a clear picture of Venice. (describe)
      b I cannot ………………………………… .
10 a 'Be careful,' she told me. (said)
      b ………………………………… .
Answers
2   charged me
3   sold a computer to
4   promised me her old printer
5   to tell you something
6   explained the problem to me
7   allows me red meat once
8   sister lent me her skirt / I lent her skirt to me
9   describe Venice to you
10   She said, 'Be careful!'
F

. Circle the correct option.
Janek was a poor boy from a small village. He had promised his mother 1……, so he went into the forest. There was one beautiful flower and, as he want to take it, Janek heard it 2…… him. The flower 3…… 'Take me! I can offer 4…… . But you must not 5…… anyone about this. You will be rich but you must not give 6…… . If you do this, you will be poor again.'
Janek took the flower and suddenly he was in beautiful clothes in a big house. He built a castle 7…… himself. It cost 8…… a lot of money, and he lived like a king. He didn't see his family or friends again but he thought he didn't need them. He was rich, but he was not completely happy.
One day, many years later, Janek saw an old woman near his garden. She was crying. 'Why are you crying? It must be because you're poor,' Janek 9…… her. "No,' she said. 'I'm crying because many years ago I lost my son. He is more important to me than any money.'
The woman was Janek's mother. Janek realised he could never be happy without his family. He gave his mother 10…… some money and once again he was a poor man in a small house. But Janek was happy at last.
1   a to some flowers     b some flowers
     c for some flowers     d flowers to her
2    a tell     b tell to     c speak to     d say to
3    a said     b told     c told to him     d said him
4   a you anything     b anything you
      c you for anything     d anything for you
5    a talk of     b talk to     c talk for     d talk at
6    a anything to anyone     b anything
      c anything anyone     d anyone
7    a to     b on     c for     d –
8    a to     b of     c –     d for
9    a talked to her     b asked to her
      c told to her     d said to
10 a to     b for     c at     d –
Answers
2 c   3 a   4 a   5 b   6 a   7 c   8 c   9 d   10 d
G

. Are you happy? Underline the correct options in the questionnaire, then tick your answers and find out! Check your score at the bottom of the page.
1    If you get a bag mark in a test, how do you feel?
      a   Not too bad, but I will talk to / tell to a teacher about it.
      b   Sad. I will cry.
      c   Embarrassed. I will write / say my teach an apology.
2   When do you feel happiest?
      a   When I'm giving things to / for people.
      b   When I'm eating hamburgers.
      c   When I'm saying / telling everyone how great I am.
3   What would you say / say to a friend who won a new bike in a competition?
      a   I would wish / wish to my friend all the best.
      b   Nothing. I would feel too jealous.
      c   'Can you lend it to me / for me?'
4   What do you do when you feel sad?
      a   I promise myself / to myself something nice.
      b   I buy a big cake for / to me and my friends.
      c   I buy a big cake and eat it all myself.
5   It's your mum's birthday but you don't have money for a present. What do you do?
      a   I make a nice card to / for her.
      b   I just say / tell 'Happy Birthday' to her.
      c   I never give my mum / to my mum presents.
6   Do you agree that money does not bring you / to you happiness?
      a   Of course.
      b   Find a million euros to me / for me and then I'll tell you / to you the answer.
      c   No
Answers
2 to; telling   3 say to; wish; to me   4 myself; for
5 for; say; my mum   6 you; for me; you
H

. Circle the correct option.
1   Tell the story …………… all your friends.
      a for     b of     c to
2    King Lear promised …………… a present.
      a her     b to     c for
3    Many people wrote letter and sent …………… .
      a Cordelia them     b them to Cordelia
      c them Cordelia
4    Goneril wasn't at home, so Regan left a message …………… her.
      a about     b at     c for
5    A ticket to the theatre will cost …………… .
      a ten euros to you     b you
      c you ten euros
Answers
1 c   2 a   3 b   4 c   5 c