A

. Replace the underlined words with pronouns to make this story more natural.
Hi. My name's Will. I live in a house with (1) Will's my parents and brother, Tom. (2) Will's family's Our house has a nice big garden where my brother and I like playing football.
One day, (3) Will kicked the ball over the garden wall and into (4) Will's family's neighbours' garden. The neighbours are called Mr and Mrs Stark and (5) the neighbours are not very nice people. (6) The neighbours don't like (7) Will's family and (8) Will's family don't like (9) the neighbours.
(10) Will and Tom asked (11) the neighbours for (12) Will and Tom's ball back, but Mrs Stark didn't give (13) the ball to us. Mrs Stark said '(14) The ball is in (15) Mr and Mrs Stark's garden so (16) the ball is (17) Mr and Mrs Stark's.'
Later that day, Mrs Stark came to (18) Will's family's house. (19) Mrs Stark had (20) Will and Tom's ball. 'Sorry. Here's the ball,' (21) Mrs Stark said to me. 'I need (22) Will's help. Today a bird took (23) Mrs Stark's gold watch and dropped (24) the watch in (25) Will's family's garden. Can (26) Will give (27) Mrs Stark the watch back, please?'
What do you think (28) Will said?
Answers
3 I   4 our   5 they   6 They   7 us
8 we   9 them   10 We   11 them
12 our   13 it   14 It   15 our   16 it
17 ours   18 my / our   19 She   20 our
21 she   22 your   23 my   24 it
25 your   26 you   27 me   28 I
B

. Answer the questions with sentences beginning there or it.
1   How many people are in your class?
      There are 26.
2   What is the time?
      ………………………………………..
3   What colour is your country's flag?
      ………………………………………..
4   What can you see outside the window?
      ………………………………………..
5   Does your town have a lot of tourists?
      ………………………………………..
6   Who is your best friend?
      ………………………………………..
7   What wild animals live in your country?
      ………………………………………..
8   What day was your birthday on last year?
      ………………………………………..
9   What was on TV last night?
      ………………………………………..
10   What was the weather like yesterday?
        ………………………………………..
Answers
Possible answers
2 It's 11.30.   3 It's red, blue and white.
4 There's a man on a bicycle.
5 There aren't many.   6 It's Maria.
7 There are foxes and wolves.
8 It was on Monday.
9 There was a film about dragons.
10 It was sunny.
C

. Put apostrophes (') in the correct places in these sentences.
1   Robert's got some new trousers, but they're not very nice.
2   My brothers friend is very kind but hes not very clever.
3   Samanthas baby brother sleeps in her parents bedroom.
4   Its good that she isnt angry.
5   My friends computer doesnt work.
6   Ill do my work and you can do yours.
7   My sister likes my brothers friends but he doesnt like hers.
8   The childrens rooms are very dirty.
9   Marias horses names are Daisy and Rosy.
10   Terrys parents took his keys and he took theirs.
Answers
2 brother's … he's   3 Samantha's … parents'
4 It's … isn't   5 friend's … doesn't
6 I'll 7 brother's … doesn't   8 children's
9 Maria's… horses'   10 Terry's
D

. Complete each sentence b so that it means the same as sentence a. Use two to four words including the word in brackets.
1   a Who does this phone belong to? (is)
      b ……Whose phone is…… this?
2   a Barry and Gary have a house by the sea. We stayed there last summer. (in)
      b We stayed ……………………………… house by the sea last summer.
3   a My dad owns these skis. (are)
      b These skis ……………………………… .
4   a You can use my dictionary. Have you lost yours? (lend)
      b Have you lost your dictionary? I'll ……………………………… .
5   a Al and Paula live near a lake. They're very lucky. (house)
      b Al and Paula are very lucky. ……………………………… near a lake.
6   a She talks but he never listens. (to)
      b He never ……………………………… when she talks.
7   a Can I have a new bike, please? (give)
      b Can ……………………………… a new bike, please?
Answers
2 in Barry and Gary's / their
3 are my dad's   4 lend you mine
5 Their house is   6 listens to her
7 you give me
E

. Complete this report. Write one word from the box in each space.
a     any     anything     everybody     few     little     lot of     lots
many     many     many     much     much     nobody     of
A 1……few…… days ago I interviewed 25 students about their cinema habits. Here are the results of my survey.
Question 1: How 2……………… times do you go to the cinema every month?
3……………… in the class goes to the cinema sometimes.
4……………… people go to the cinema once or twice a month.
5……………… few people go three, four or five times.
6……………… goes more than five times a month.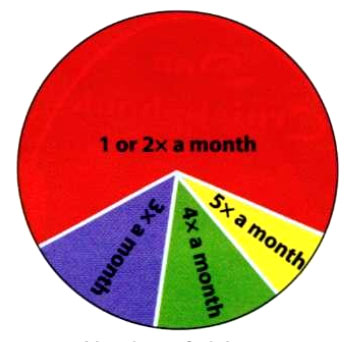 Number of visits to cinema every month
Question 2: How 7……………… cola do you usually drink at the cinema?
8……………… of people buy cola at the cinema, and some 9……………… them say they drink a 10……………… cola (1 litre or more) while they are watching a film. Seventeen people say they drink a 11……………… cola (less than 1 litre). A few people never drink 12……………… cola.
Question 3: How 13……………… food do you usually buy at the cinema?
People in my class don't buy 14……………… snacks (sandwiches, hot dogs, etc.) at the cinema. Four people in the group never buy 15……………… at the cinema because it is very expensive.
Answers
2 many   3 Everybody   4 Many   5 A
6 Nobody   7 much   8 Lots   9 of
10 lot of   11 little   12 any   13 much
14 many   15 anything
F

. Underline the correct option.
Alison:   Hello. (1) That / This / Here is Alison. Is (2) that / you / there, Sally?
Sally:   Yes, it is. Hi, Alison. Where are you?
Alison:   I'm camping (3) anywhere / nowhere / somewhere in the forest. I'm here with (4) some / any /a little of the girls from my class.
Sally:   (5) That / This / Those sounds nice.
Alison:   Yeah, it's great. It's so big – we can walk a long way in (6) any / this / no direction and we never see (7) any / an / no other people. But we've seen (8) that / an / lots of animals.
Sally:   Really? Have you seen (9) a / much / any bears?
Alison:   No, none. We've heard (10) a few / few of / a few of, but we haven't seen (11) any of / any / none. We have seen (12) some / lots / a few of rabbits. We've even seen (13) any / a little / a few snakes.
Sally:   That's fantastic. What's (14) the / a / – weather like?
Alison:   Well, we've had (15) some / a / a few nice weather, but we've also had (16) a few / a few of / a lot of rain. Last night we all got wet while we were coming home. (17) A little of / Much of / A few of the girls got sick.
Sally:   That doesn't sound like (18) many / much / a fun. Are you going (19) nowhere / anywhere / everywhere today?
Alison:   No, (20) somewhere / nowhere / anywhere. We're going to stay at the campsite and wait for the doctor.
Sally:   Oh no.
Alison:   Listen, I have to go. I'll see you soon.
Sally:   OK, bye. Have (21) any / a / – fun!
Answers
2 that   3 somewhere   4 some   5 That
6 any   7 any   8 lots of   9 any   10 a few
11 any   12 some   13 a few   14 the
15 some   16 a lot of   17 A few of   18 much
19 anywhere   20 nowhere   21 –