A

. Circle the 12 past simple forms in the wordsearch puzzle, then write their infinitive-without-to forms.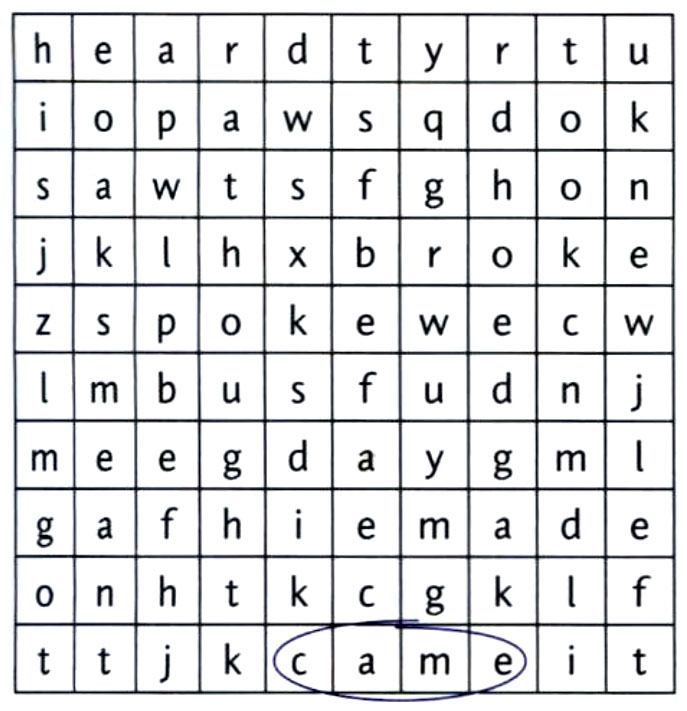 1   ……come……
2   ………………….
3   ………………….
4   ………………….
5   ………………….
6   ………………….
7   ………………….
8   ………………….
9   ………………….
10   ………………….
11   ………………….
12   ………………….
Answers
break, get, hear, know, leave, make, mean, see, speak, take, think
B

. The most famous poem in Old English is Beowulf. Complete the text using the correct past simple form of the verbs in brackets.
Beowulf 1……was…… (be) a great fighter 1,000 years ago. He 2……………… (win) many battles against monsters and dragons. Grendel was a terrible monster from Denmark. He 3……………… (have) big teeth and he was very strong. Grendel 4……………… (not sleep) and 5……………… (not eat).
He 6……………… (drink) blood. King Hrothgar of Denmark 7……………… (pay) Beowulf to kill Grendel. Beowulf 8……………… (go) to Denmark, 9……………… (fight) the monster and killed it. King Hrothgar 10……………… (give) Beowulf a lot of money. Beowulf 11……………… (leave) Denmark and 12……………… (not come) back.
He 13……………… (become) a King. Finally, Beowulf died because a dragon killed him.
Answers
2 won   3 had   4 did not (didn't) sleep
5 did not (didn't) eat   6 drank   7 paid
8 went   9 fought   10 gave   11 left
12 did not (didn't) come   13 became
C

. Read the notes about a typical teenager's day in 1000 AD. Write full sentences in the past simple. Some are statements (✓) and some are negatives (✗).
A teenager in 1000 AD
✓ get up: 5.30
✓ breakfast (bread and water)
✗ go to school    ✓ go to work
✓ work begin: 6.30
✓ lunch (meat)
✓ get home: 5.00
✓ make clothes: evening
✓ before bed: tell story to sister
✗ sleep in a bed    ✓ sleep on the floor
She got up at 5.30 and ……………………………………………………………………………
……………………………………………………………………………
……………………………………………………………………………
Answers
… ate / had bread and (drank) water for breakfast. She didn't go to school, she went to work. Her work began at 6.30. She ate / had meat for lunch. She got home at 5.00. She made clothes in the evening. Before she went to bed, she told a story to her sister. She didn't sleep in a bed, she slept on the floor.
D

. What did you do yesterday? Answer the questions in your notebook using past simple short answers and sentences. Then write three more questions and answer them in the same way.
1   Did you get up early?
      No, I didn't. I got up at 10 o'clock.
2   Did you speak English?
      Yes, I did. I said 'Hello' to my English teacher.
3   Did you buy anything?
4   Did you go anywhere in the evening?
5   Did you forget anything?
6   Did you see any friends?
Answers
Possible answers
3   Yes, I did. I bought some chocolate.
4   No, I didn't. I went to bed early.
5   Yes, I did. I forgot my Geography homework.
6   Yes, I did. I saw Lucy.
7   Did you get any messages? Yes, I did. Lucy sent me a text.
8   Did you drink coffee? No, I didn't. I drank two cans of cola.
9   Did you feel happy? Yes, I did. I was very happy.
E

. Circle the correct option.
1   A: Did they feel happy?   B: No, they …………. very angry.
      a feled     b fell     c felt
2   Where …………. from?
      a did the Saxons come
      b the Saxons came
      c did the Saxons came
3   A: Did Beowulf speak Old English?   B: Yes, he …………. .
      a did     b spoke     c does
4   The Ancient Britons …………. pens and pencils.
      a hadn't
      b didn't have
      c didn't had
5   Beowulf sorry to the King.
      a sayed     b said     c saw
Answers
1 c   2 a   3 a   4 b   5 b